National Bookkeeping Membership
Choose from a membership level that suits your financial situation and your business commitment level.
1. Talent Pool Member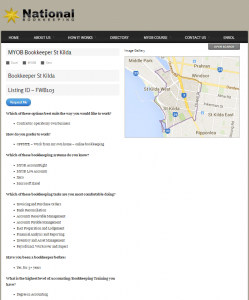 This is a core database of bookkeepers, their skills and experience and information about the way they would like to work. This is the entry level listing for a bookkeeper who wants to be registered at the site and as a Talent Pool Member you get to participate in community discussions and have an opportunity to put your hand out for bookkeeping leads.
Talent Pool Listings are designed for bookkeepers who want to dip their toe into the National Bookkeeping group and learn a bit more about what it's like to be a member. Their listings are anonymous but they have a unique Listing ID that any small business can make a not of when requesting the services of that person.
This listing is ideal for someone who wants to be listed because they are looking for a bookkeeping job.
$197 per annum
2. Registered BAS Agent Membership
In this package you can include more images of you or your business and we provide you with a marketing number for your listing that is diverted to an existing phone number. This will make you stand out more and enable potential clients to make contact with you directly.
NO CHARGE (Normally $497 per annum currently included as part of the talent pool partner program – TPPP)
3. Bookkeeping Contractor Joining Package
This provides you with the Small Business Management Course and Certificate AND a Business Plan designed by our Registered BAS Agent for someone wanting to start their own business.
The Small Business Management course includes a broad range of topics that someone must know if they are going to start their own business. These aspects include legal, operation, accounting, management, marketing and sales and these skills are important for every business you work in, as well as giving you a well rounded education about topics that every business has to cope with.
Our Small Business Startup Course was created by The Australian Small Business Centre who has trained over 1,000 people to start and grow their own business. Our own Registered BAS agent went through this course and created a business plan for a bookkeeping business that is available to you once you join.
What's included:
Originate and Develop Concepts
Business Planning and Marketing Introduction
Establish Legal and Risk Management
Intellectual Property and General Law
Researching the Market
Bookkeeping Business Plan
The great news for you is that our Registered BAS agent has gone through this course and created a business plan that is available to you to modify as you need to for your own circumstances.
Taking the time to plan your new business helps you more clearly define:
How you would like to work,
Who your ideal clients are
How many clients you need
How much you need to charge
Your business plan also helps to give you confidence of the need for your services (because you would have done the research) and provides you with a road map to successfully build your business from scratch and stay on track to achieve your goals.
$1588 Once only
4. National Bookkeeping Licencee
A premium listing provides you with a small business starter pack and everything you need to start, manage and grow your bookkeeping business. You'll have all of the benefits of the other two packages + these benefits:
Small Business StartUp Course

Understand the market need and your position
Set goals and targets including client types and rates
Education about financial management and forecasting

Use of the National Bookkeeping Logo and Name

Set of template documents
Template for business cards

Professional services agreement template
Affiliate membership so you can earn a percentage of sales for enrolments into the Online Training Courses
$497 per annum
Register Now