Start a Bookkeeping Business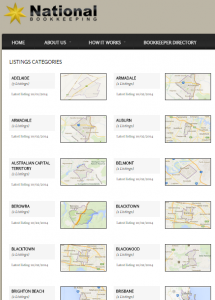 National Bookkeeping is an online service dedicated to helping Australian bookkeepers find clients, as well as helping Australian small businesses find a bookkeeper.
National Bookkeeping mission statement is to enable bookkeepers with MYOB, Xero and Quickbooks skills to list their profile and get noticed by business in their area.
The goal is to enable small business to find a local bookkeeper who agrees to uphold high professional standards in their knowledge and transparency while also providing professional customer service, while keeping the cost of bookkeeping compliance low.
Through their listing options, potential bookkeeper candidates can participate in the directory at a level that they can afford from an anonymous listing that demonstrates their skill level and working preferences to a full service listing that shows all of their profile information and contact details. All bookkeepers agree to the National Bookkeeping Code of Professional Conduct and offer a Professional Services Agreement for the work they perform for small businesses. This way they ensure their talent pool is committed to running a first class bookkeeping business while saving on the costs of being part of a franchise.
Every Business Needs a Bookkeeper
Bookkeeping is a task every business, whether they're large or small, must perform – and regularly. But large bookkeeping firms can be expensive and getting your accountant to do the bookkeeping can cost over a hundred dollars per hour, which often leaves small businesses to try and muddle along on their own.
Qualified Accountants and Student Bookkeepers
This is where National Bookkeeping comes in. The National Bookkeeping registry is a database of both experienced bookkeepers available to hire as a contract bookkeeper, and MYOB trainers who can teach businesses how to use the software to carry out basic bookkeeping tasks.
Many of the people registered with National Bookkeeping are qualified accountants who prefer to work closer to home and during school hours rather than for a large corporate doing meaningless work for large clients. Some registered bookkeepers are relatively new but they have gone through training and know how to use the software and are willing to work for a lower rate.
Earnings Guarantee For The Right Person
If you are interested in learning more about this opportunity be sure to register your interest. If you are the type of person that 123 Group are looking for you may be able to take advantage of an earnings guarantee!
Learn how to Start